Top 5 Reasons to Use Outdoor Signs to Increase your Business
February 6, 2015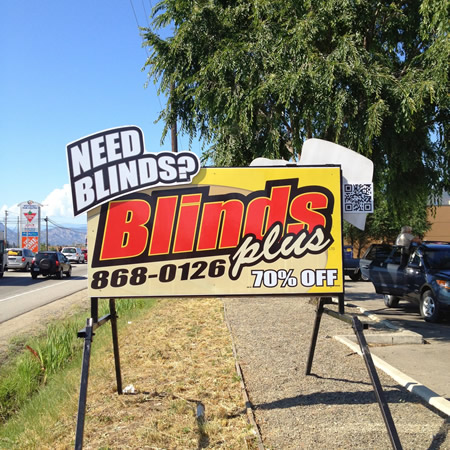 Trying to find new ways to attract new customers?
In the increasing competition for your customers' dollar, portable signs offer an eye catching way to attract more attention to your business amidst today's advertising clutter!

Following are our top five reasons to add portable signs to your traditional marketing plans to increase your business's exposure and add value to your bottom line.

1. Create awareness.
Portable signs create impact. They bring instant awareness to sales, special offers, grand openings,etc. It helps provide the location of your business and where your product and services can be found.
" 24/7 - The portable sign delivers your message generating high awareness with high repeat exposure. We are all creatures of habit and we travel the same route almost daily and notice changes. Nothing is more obvious than a full colour 50 sq. ft. road sign. Your sign is your silent sales person."
2. Road sign placement at your location.
Strategic road sign placement is key toward attracting more people to your store or event. Being movable allows you to relocate your message to maximize the optimal viewing site - most often next to the road, to attract the attention of those driving by. Because the signs are so mobile, they are easily transported to a different location (perhaps a parking lot, front yard, a collaborating business) virtually anywhere permission is granted, the options are limitless!
3. We take care of It all!
Simply call, complete our online order, email, fax or drop-off the info and message you would like to communicate and we will do the rest. We deliver, set up, pick up and change text if required!
4. Change your message on the fly!
With bold colours and messaging at eye-level for passing motorists, attracting customers has never been easier. Portable signs are like small billboards, only better, as the message and artwork is easily changeable with colorful letters, graphics and clip art, and customizable with your logo as well! Simply fill out a change form and leave the rest to us!
5. Affordability!
For about $5.00 per day, your advertising message is out there 24/7 to be seen by thousands - at the lowest cost per thousand impressions! View advertising cost comparison. Your portable road sign is your silent salesperson informing customers of your locations, your specials and events even when you are not open. Other forms of advertising when heard or seen are generally not near the place of business. When a customer sees your portable sign right outside your place of business the odds are much greater they will stop and inquire into your specials or promotions!
Check out our catalogue and contact us for more information!