Different Strokes for Different Folks
February 11, 2015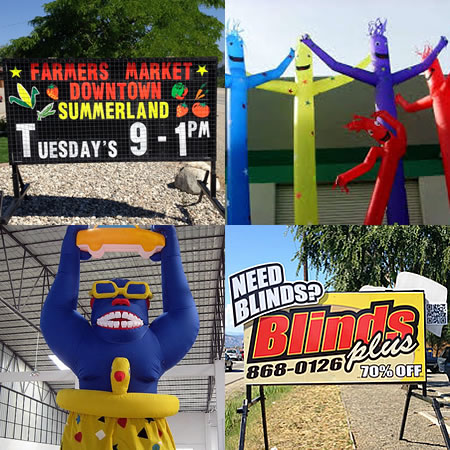 Okanagan Portable Sign Rentals offers a variety of options depending on your taste and pocket book. All of our signs and inflatables and are made of professionally crafted high quality products. You can count on OKPSR to represent your company and brand with the best available products in the industry.
If you are in the market for one of our big black signs, we provide a variety of letter fonts and clip art to compliment your message. All of our signs are 4 feet tall by 8 feet wide. As every customer's need is unique, we also offer everything from simple to custom graphics that are consistent with your brand, as well as full colour options in our catalogue. Monthly and weekend rental fees are available. In this fast paced world we also offer the option to revise your message as often as needed to keep your message top of mind with your customers!
Want something eye catching to attract your customer? Our wind dancers are the answer. These waving, twisting, feisty little guys will draw your customer's eye even in a cluttered environment. The benefits of these guys are that they are easy to install, safe to operate, portable, colorful, and offer the best bang for your marketing buck. They can be used at any event, sale, grand opening or promotion. OKPSR offers daily, weekly and monthly rates for these vibrant, marketing, dancing tubes. Rates are based on your location.
Other inflatables to add to your arsenal when you want to make a great impression include our Gorilla, Hot Air Balloon, Pointing Finger, Star, and for a grand entrance or fantastic finish line - we even have an Event Arch! We will deliver and set up your inflatables and they only need a standard electrical outlet to power them.
With any of the options above, you are required to do some due diligence with regards to city permits and applications fees, however we guarantee that with any option you choose, your business and brand will be sure to catch your customer's eye!

Contact us today to order your new marketing solution.