New Yard Signs to Celebrate Big Events Safely!
August 7, 2020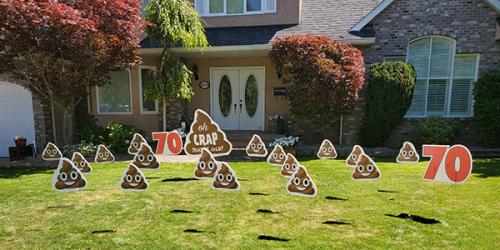 Since large parties are off the table for the foreseeable future, Okanagan Portable Sign Rentals is pleased to provide you with a way to celebrate safely with yard sign rentals! With multiple options for different types of celebration, you're certain to find one that suits your big celebration or achievement or put them on display to recognize a friend, family member or neighbour that you can't see in person right now.
You're Old!
Celebrate an upcoming birthday with our "Oh Crap You're Old!" birthday lawn signs. The large celebration sign comes with 15 smaller cards, so no one will miss them! Draw attention to a significant birthday milestone when perhaps a birthday party isn't in the works for this year.
If "Oh Crap..." isn't your cup of tea for a birthday yard sign, check out a more standard "Happy Birthday" yard sign rental package complete with candles and cupcakes!
Celebrate a Birth
Say hello to new additions with a new baby yard sign package, in "It's a Boy!" or "It's a Girl!" varieties. Plunk them down in the yard and let everyone know the happy news about a new bundle of joy in your family, or to help a friend celebrate.
The new baby yard sign package comes complete with a large stork sign, congratulations sign and 15 fun smaller yard signs to make sure that your special occasion is front and centre, making it a great baby gift for someone in your life. and to bridge the gap until you can celebrate in person.
Happy Retirement!
Saying goodby to the old "9 to 5" and moving on to the next phase of life is a huge achievement, but one that may be difficult to celebrate properly at this time. Let the new retiree in your life know that you're thinking about them with a retirement lawn sign package, including a "Happy Retirement" sign along with15 smaller signs to decorate their yard. Just imagine how happy they'll be knowing that they are in your thoughts during this major milestone.
More Celebrations
There are many reasons to celebrate, such as a new job, graduation, new house, etc. Don't stop celebrating those big events in life - you can make someone's day that much more special with a "Congratulations" yard sign package. Just reserve online and pick up at your convenience!
Small Party Planning
When yard signs aren't enough and you want to get your "bubble" together to celebrate a special occasion, a few party rentals can help to make for a comfortable gathering and provide a safe and spacious space for your guests. Visit our partner site at Avalon Event Rentals for all the party rentals you need for a successful small event, including:
Tents
Hand sanitizer stations
Bistro/cocktail tables
How about custom yard signs for a really special and unique occasion? Contact our team - we can help!